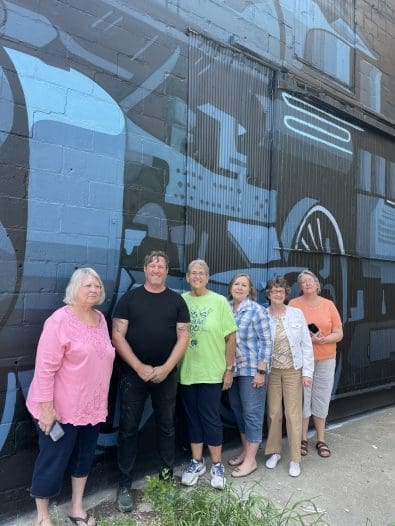 Members of the Uptown Improvement Association pose next to the completed mural at M-62 and Elkhart Road. Pictured left to right are Dawn Bolock, muralist Brett Whitacre, Meryl Christiansen, Brigid Forlenza, Roseann Marchetti and Paula Ralph.
CASS COUNTY, Mich. — As passersby traverse M-62 in Edwardsburg, they will now be treated to a colorful depiction of the village's history instead of greyish-white grain silos.
Over the past few weeks, artist Brett Whitacre completed the "All Aboard!" project launched three years ago by the Uptown Improvement Association. The association, with the support of local nonprofits, community organizations, donors and businesses, launched the mural project with the goal of brightening up the heavily trafficked area. To complement the nearby train tracks, they envisioned a mural depicting a train station.
After the artist originally hired to paint the mural became unavailable to finish the project, Illinois- based Whitacre responded to the call for artists and finished his own rendition of the project in a matter of weeks.
Now, the corner of M-62 and Elkhart Road features a bright homage to the train station that once served Edwardsburg, a locomotive pulling up beside it, a conductor and passengers waiting nearby. Various nonprofit organizations and donors are represented throughout the mural on train cars, an airplane banner, and even downtown-style forefronts.