MHS graduate and now SMC professor Andrew Churchill shared his experiences in the field of Business, Management and Administration with Marcellus Middle School students during Career Day, Friday, January 20, 2023.
---
In this week's Bits and Pieces by Paula Johnson on page three of the print edition, Johnson, coincidentally enough, writes about finding your passion. Rather than choosing what occupation to pursue, she advises young people to find their passion: Sometimes we are lucky enough to know or stumble on our passion. Sometimes we need a little help. I believe the important thing in life is to find our passion.
Marcellus Middle School and SMC Educational Talent Search (ETS) Director Maria Kulka teamed up recently with fifteen area professionals to provide "a little help" to students in sixth through eighth grades in identifying their passion for certain types of occupations. In other words, it was Career Day at Marcellus Middle School, Friday, January 20.
Students had previously gone through an assessment to determine which three sessions they would attend during Career Day. Choices ranged from agriculture and information technology to health science and arts, audio/visual technology and communications.
The professionals gathered at 7:50am for their room assignments and quickly set up laptops, props, signs, and giveaways. Yes, it's always good to have treats on hand any time you're in a public school.
After the morning had concluded, Andrew Churchill, MHS graduate and Business and IT Professor at Southwestern Michigan College, remarked, "Nate and Nick gave away. . . meat. They were actually handing out meat [frozen from Jake's Country Meats]."
[Lucky students. Most of us just had candy.]
The students in all three sessions conducted by your Editor were attentive, curious, enthusiastic, and fun. (Many thanks to Misty Welburn who shared her classroom and teacher skills with The News.) It was a great experience, not just for the students, but for the presenters, as well. If the Marcellus Middle School students are any indication of the future, we will be in very capable hands.
---
Deputy Jason Jarrard does some recruiting for the Cass County Sheriff's Department during Career Day at Marcellus Middle School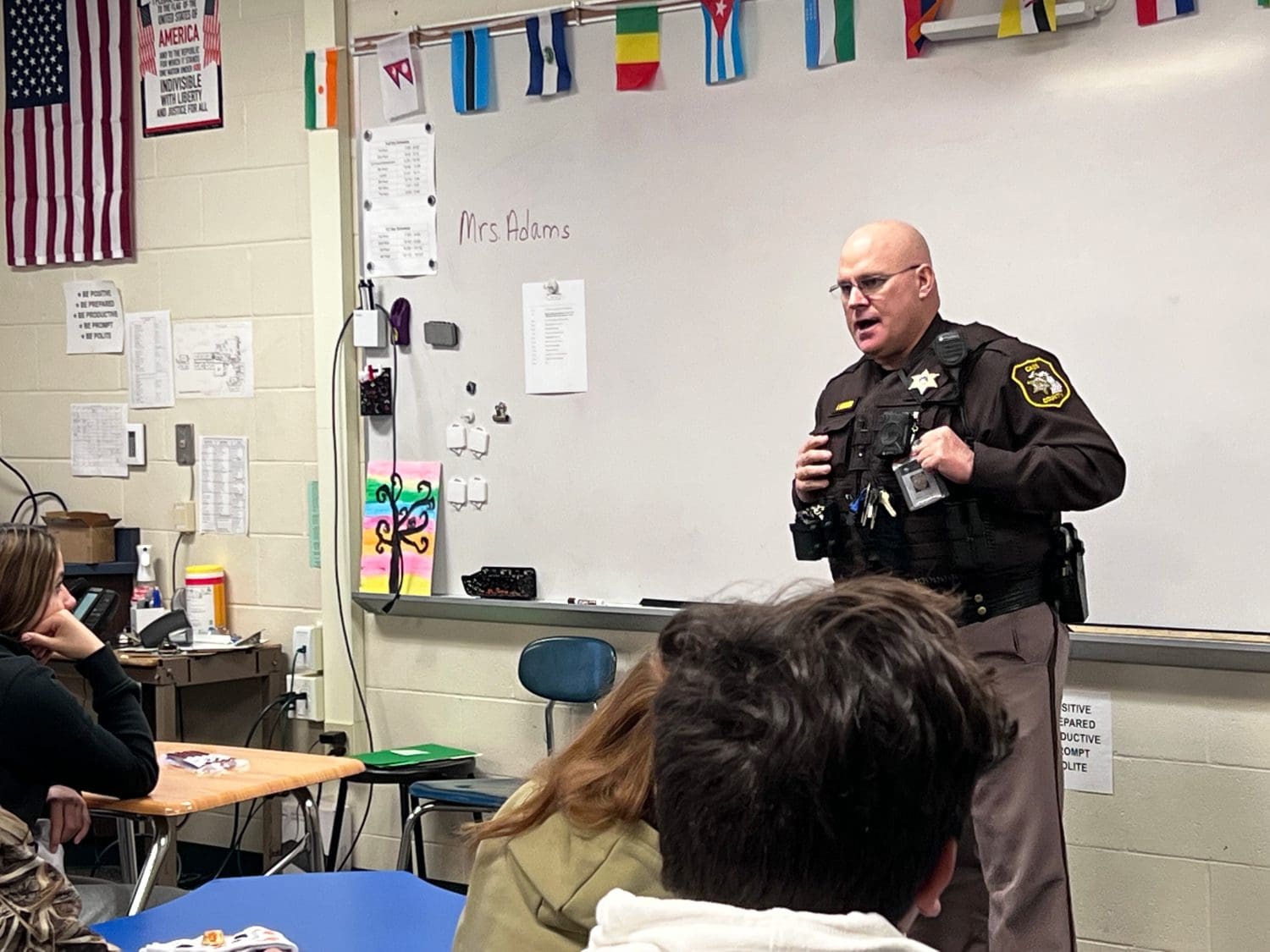 ---
Bob Budner shares his experiences in the military with students during Career Day.
---
Middle School student Bryce Linn tries some military body armor on for size.
---
Career Day Presenters:
Agriculture, Food and Natural Resources: Nick Seelye and Nate Robinson, Jake's Country Meats; Beth Ferry, MSU Extension
Arts, Audio/Visual Technology and Communications: Kay Schten McAdam, Editor, The Marcellus News
Business, Management and Administration: Andrew Churchill, Assistant Professor of Business, SMC
Information Technology: Mick Valeris, Director of IT, and Matt Collins, Technology Support Manager, SMC
Law, Public Safety, Corrections and Security: Robert Olsen, Marcellus Fire Department and Deputy Jason Jarrard, Cass County Sheriff's Department
---
Manufacturing: Joe Gambill, South Bend Electrician Training Director
---
Health Science: Shelly Todd, Nursing Instructor, SMC; Chanda Skalski, MA /Sim Lab Coordinator and Administrative Assistant, and Rebecca Swartz Administrative Assistant of the School of Nursing and Health Services Department
Military: Bob Budner
Human Services: Alisha Pennington, MDHSS (Housing and Homeless Services)
Photos courtesy of Tracy Cropsey, Principal, Marcellus Middle Schools