Wow! The Band Boosters' Wildcat Stadium blankets sold like the proverbial hotcakes! No sooner than the Boosters offered them for sale, the 60" x 70" size sold out. Never fear! The Boosters still have plenty of the 50" x 60" available. They are reordering the larger size and should have them available next month.  All proceeds from the sales go directly to the new marching band uniforms fund. Kindly holding the blanket for display is Lyra New and Wyatt Osbeck (he's behind the blanket!)
by Katy Essex, Director
---
New Uniform Fundraiser Update!
We have surpassed $25,500 in monies raised for the new marching band uniforms! Please help us reach our goal of $40,000!
Thank you so much for your continued
support of music education!
It's been 30 years! Please help!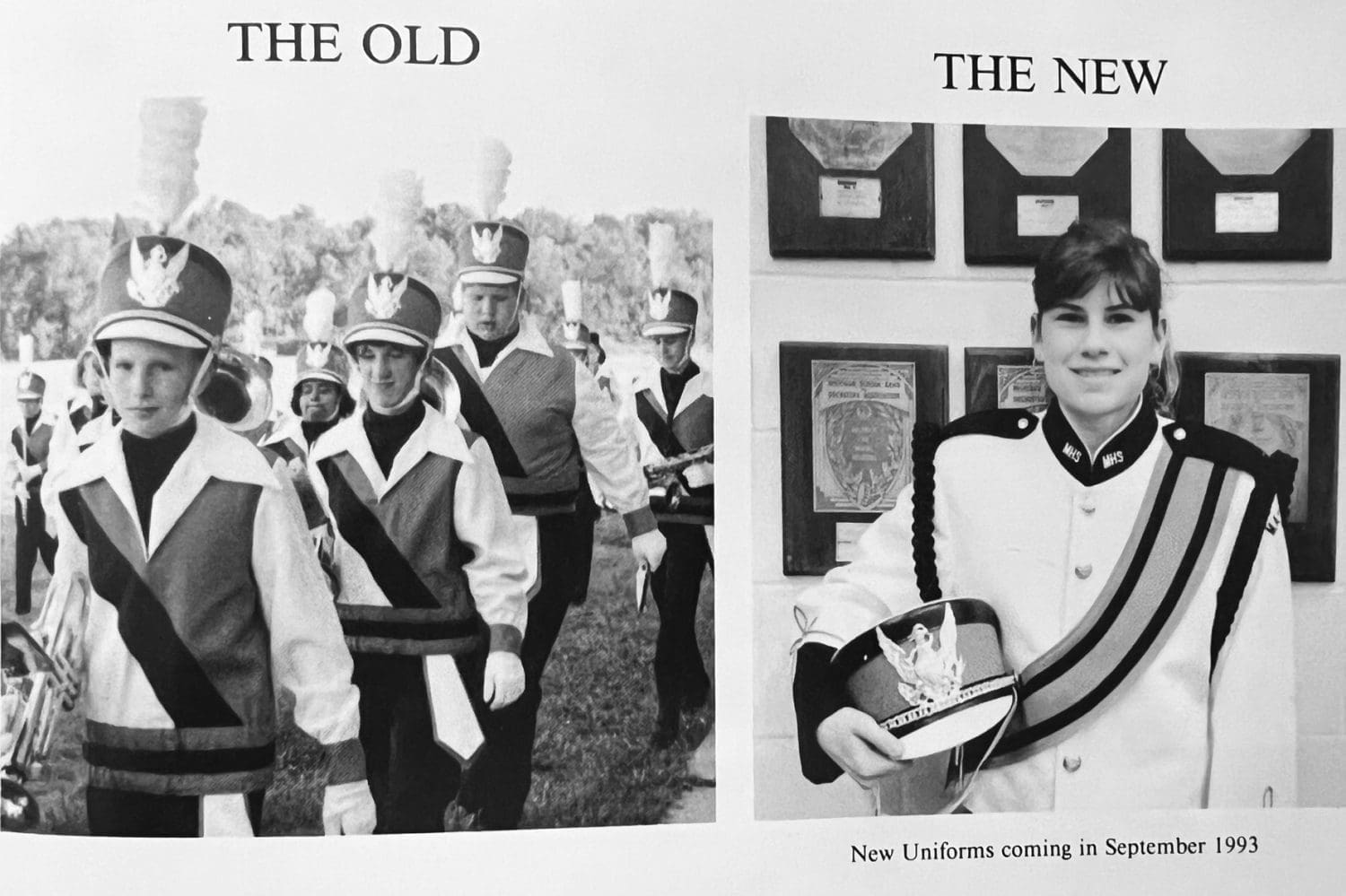 ---
Band Notes – June 12, 2023
Summer Drumline Schedule
While these practices are not mandatory, they are highly recommended and very beneficial.  Drumline members are in charge of A LOT of music and the more you know (especially the cadence) and the better prepared you are the better your band will sound and the easier marching band camp will run.  So, please be there.
Tuesday, June 20 – 11:00-12:30
Tuesday, June 27 – 11:00-12:30
Tuesday, July 4 – No rehearsal, Happy Independence Day!
Tuesday, July 11 – 11:00-12:30
Tuesday, July 18 – 11:00-12:30
Tuesday, July 25 – 11:00-12:30
Coming Up:
August 4 – Freshmen Marching Band Basics, 8am-Noon
August 7-11* – Marching Band Camp, Monday-Thursday 8am-4pm; Friday 8am-2pm.
August 19 – Bluegill Frolic Parade
August 23 – 6th Grade Beginning Band Instrument Fitting and Rental Night, 4:30-6pm in the High School Band Room.  Representatives from Meyer Music will be here to help with instrument fittings and instrument rentals.  Letters will be mailed to parents soon.
*Detailed letters regarding Marching Band Camp and the full marching band schedule will be mailed to parents and students later this week.